I recently discovered "La Luz Photography" through a link on facebook. I was then AMAZED and overjoyed to find out that it is a long lost friend from high school, Aly's business! Her work is STUNNING - really, truly beautiful and so artistic.
After reading her blog for a few weeks, I was excited one morning when she posted blog candy for one lucky winner - a free sitting! I entered and hoped and prayed! Well God was listening because we won! I can't tell you how thrilled I was to win - because Dave and I have been wanting to do a professional photo shoot of our family ever since Ruby was born. We just haven't had the time or money. How blessed to have the opportunity literally fall into our laps!
So yesterday we met with Aly at Discovery Park in Seattle. The weather was gorgeous, the kids cooperated, and we had a fantastic time. Aly was so good with the girls. Sammie is typically very shy - and she warmed up to Aly immediately! We spent the hour just playing and goofing off as a family.
Tonight Aly posted some of the shots from our session on her blog and all I can say is WOW! She is so talented. I was near tears looking at the photos because she truly captured the emotion and humor of our family. I could not be more pleased with our photos - and can't wait to see the rest of them!
Here is one of my favorite shots: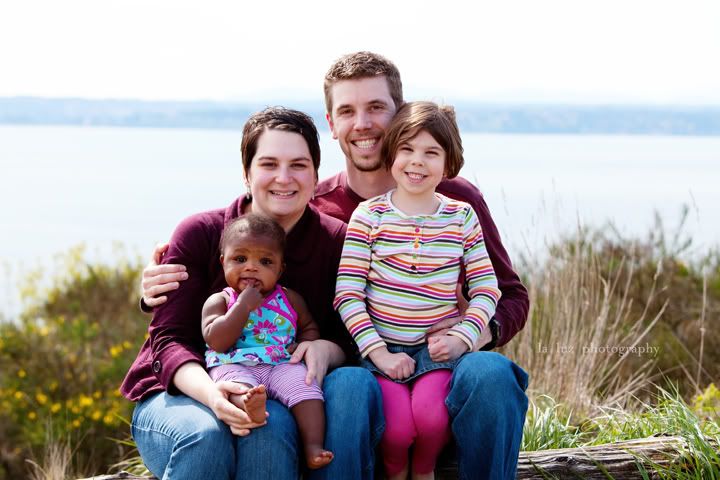 You can see the rest by going to
La Luz Photography - blog
If you are thinking of getting family portraits done (or wedding/engagement/baby pictures) you DEFINITELY need to call Aly!