This past weekend was PERFECT! I took my best friend
Wendi
on a "girls weekend" to Portland to celebrate a milestone birthday. We ate, and shopped, and ate, and shopped, and ate some more (and my scale and bank statement prove it!). What she didn't know - and came to find out - was the culmination of the weekend was a surprise birthday party for her! She was totally and truly shocked, which was awesome. And she felt completely loved and blessed by her friends - which was even better than the surprise...
But I'm getting ahead of myself...
Let's start at the beginning.
Friday, 8:30 am, I pick up Wendi and we head to our favorite donut shop, Frost. I had a coupon - buy 2, get 1 free. So I had an old fashioned chocolate, Wendi had a blueberry pancake, and then we split the bacon maple bar. Mmmmmmmm...
Next we hit the road. We were headed to Portland, Oregon, but made one quick stop in Centralia. Now, I'm a pretty good driver, but a TERRIBLE parker. And on this trip I got to practice parallel parking a LOT, and most of the time it was in the rain, on busy downtown streets. But, thanks to Wendi's expert tutelage I perfectly parked not once, not twice, but THREE times. I'm so proud. :) Here's a shot of my first "success".
The first antique store we stopped at in Centralia was a bust. But the second was a GOLDMINE! (It's called Painted Lady). Look how adorable their checkout area is! We saw a lot of trellises made from doors/windows and twinkle lights on this trip. So pretty!
This was my score - The window frame and the white lattice screen behind me! They are going to be awesome for the Edmond's Summer Market.
We quickly got back on the road, and made it to Portland by mid-afternoon. We stayed at the Kennedy School - a
McMenamins hotel
named the "quirkiest hotel of 2010". It was incredible, and boasted a movie theater, heated soaking pool, restaurant, 6-7 pubs, and brewery. But the coolest part are the guest rooms, which are actual classrooms from this 1915 elementary school.
This was one of the corners of our room. The original chalkboards lifted up to reveal coat rack, closet, and Murphy bed.
After checking in to the hotel, we ventured back out for more shopping. We stopped at
Monticello
- the most amazing antique shop either of us had EVER been.
Saw cool pennants like this everywhere - more on this tomorrow...
We found treasures galore, and some of them even got to come home with us...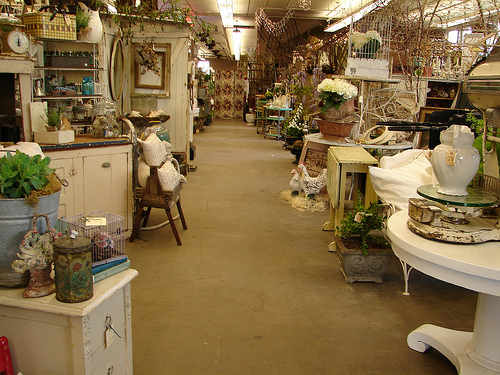 ...alas, some of them did not. I found this little 10 foot (or more?) wonder - complete with twinkle lights. But at $4200 I don't think Dave would have been too happy with me bringing it home. And our neighbors probably wouldn't be thrilled with it sitting in our yard either. Sigh....
After antiquing for a few hours, we decided we needed a fiber fix. We made our way to Twisted - and if you read my blog regularly, you'll know that this is my "most favoritest, all around best, super wonderfullest" yarn store of all time. It was so great to be there in person again.
...and we both found a few treats we couldn't live without.
Of course we were starving after that. So we made our way to East India Co. for one of the best Indian meals I've ever had in my life.
Then we made our way back to the hotel and crashed. Saturday was just as packed. We started the morning a bit more healthy than Friday - with Oatmeal from Starbucks instead of donuts.
Then we found the "Goodwill SUPERSTORE" - it was gigantuan. We actually wondered if this place sold groceries or appliances it was so big (they don't). But it was clean, and extremely well organized (we're talking kitchen wares and ceramics organized by item AND color).
From there we found the Sellwood district, which is a definite can't miss destination for antique and boutique lovers. Our favorite shop was Tilde, which featured items created by local artisans. Everything was incredibly unique and VERY cool. We both fell in love with the featured artist's work. Her name is
Trish Grantham
, and she does watercolor/acrylic paintings over pages taken from antique Japanese books. Then she pours resin over the piece to make it shiny. The finished pieces are amazing. I wanted to take all of them home with me! (But had to settle for a few prints, for now).
We also ate lunch at Jade Teahouse and Patisserie. WOW. Amazing. Really, there are no words to describe how awesome the food was here, so I'll let the pictures do the talking.
The menu.
My coconut rice noodle soup (with shrimp, crunchy veggies, and shredded chicken):
chocolate mudslide cookie with sea salt for dessert (yes I make that goofy face a LOT):
Wendi's salad and truffle oil fries with S'mores cookie:
Thoroughly filled to the brim, it was time for more shopping! We made our way to the Mississippi district on the advice of the Tilde shop owner. It was kooky, and silly, and very fun. We had hoped to make it to the Portland Saturday Market as well as Voodoo Donuts too - but ran out of time.
We got back in the car, and headed for home. I had told Wendi that we were meeting our husbands and kids for dinner, and had cooked up an elaborate scheme to make a quick pit stop at a friend's house (for a computer part for Dave). What was actually waiting at the pit stop was a house full of Wendi's family and friends (over 50 people!). She was beyond surprised - and was a little mad at me for lying and not making her dress better. But in the end we all had a blast. It was the perfect weekend!